Stockholm offers the culinary connoisseur a surprising variety of traditional and modern cuisine. Fresh ingredients have always been native to Swedish cuisine and seafood is a special delicacy in Stockholm, where its impossible to ignore the fruits of the Baltic Sea. This section features a collection of award-winning, popular and astonishing restaurants. Take your pick.
Ekstedt
With no traditional ovens or gas cookers in sight, Ekstedt is one of Stockholm's most exciting restaurants, and was arguably the restaurant responsible for the open-fire cooking trend that has swept Europe over the last few years.
Focusing on blending well known Swedish flavors and ingredients with traditional and modern European cooking techniques, Niklas Ekstedt's team work tirelessly to offer one of the capital's most innovative menus.
When you walk into the restaurant the first thing you will notice is the sheer heat of the place, with the restaurant's back wall housing the kitchen and the various open fires all the food is cooked over. The interior is traditionally Scandinavian with exposed metal grids covering the ceiling, finished off with wood panelling and furniture throughout.
While you would expect a lot of heavy red meat dishes from a place known for its 'outdoors' style of cooking, the food on offer at Ekstedt is well balanced and varied enough to keep even the pickiest of eaters pleased. To kick off the menu the staff bring out a searing hot pan and a handful of small bowls filled with fresh ingredients. Into the pan they add mushrooms, herb butter, onions and roe deer heart, cooking the dish in front of you before inviting you to serve yourself with small tortilla breads, fashioning what they call 'Swedish tacos'.
The menu weaves its way through a series of delicious flavors, pairing ingredients in the most unusual of ways. One of the stand out dishes for both flavor and technique has to be the oysters with beef fat. Made by melting the beef fat over the oyster by putting it through what can only be described as a red hot metal filter, the fresh saltiness of the oyster is nicely balanced by the rich oil of the beef fat, giving two very simple ingredients whole new levels of flavor.
As with any restaurant of this calibre, the wine list is both extensive and varied, with the in house sommeliers offering guests plenty of suggestions to pair with their meal, or alternatively you can opt for a wine flight to match your meal. All in all, if you're looking for something a bit unusual, you'll be hard pushed to find anything better in Stockholm than Ekstedt.
Wedholms Fisk
Wedholms Fisk, founded by legendary restaurateur Bengt Wedholm, is one of the few restaurants in Stockholm entirely devoted to seafood. The dishes — a combination of Swedish culinary traditions with new influences and techniques — include such delicacies as fresh oysters with pumpernickel bread and shallot vinaigrette, whole poached sole with trout roe and champagne sauce, and fricassée of turbot, sole, lobster and scallops.
Come here for a long lunch and gaze over the ocean views from the restaurant, or for that special occasion you can book the private room for a gourmet feast for up to 12 people.
Restaurant Frantzén
Nestled in downtown Stockholm, Frantzén is one of the city's longest standing fine dining venues. Hidden behind a somewhat unassuming facade, inside is one of the best restaurants in Stockholm, and one of the most innovative kitchens in all of Scandinavia.
Bjorn Frantzén, the head chef, only deciding to move the restaurant in early 2017, taking it from the city's old town – Gamla Stan – taking it to a more central location in Stockholm's downtown. While the new move is reported to have cost Frantzén 75 million Swedish krona (roughly $8,875,740), the new venue is five times the size of the old restaurant, spanning three floors and housing many more seats than the previous location.
The food on offer at Frantzén is truly one of a kind, focusing on blending Swedish and Japanese cuisine, using only the finest local ingredients. One of the restaurant's stand out dishes is macaron with pumpkin, foie gras, orange, sea buckthorn, roasted oats and green pepper.
Operakällaren
With its gilded oak paneling, sparkling chandeliers, and impressive geometrical wood-paneled ceiling, Operakällaren's main dining room is a classic destination for fine cuisine and impeccable service. Serving international haute cuisine by Stefano Catenacci, it has been awarded a Michelin star, and is a member of the prestigious Les Grandes Tables du Monde/Traditions & Qualité association. Operakällaren's private dining room, a completely modern affair in white and electric blue, is also worth a visit, if only for its contrast with the main dining room. Rent it out for a trendy dinner party with views over the water.
Le Rouge
Three things in particular characterize the food at Le Rouge: personality, tradition and warmth. The comforting flavors of French cuisine, as well as Italian simplicity, feature prominently on the menu, with dishes including turbot à la Tropezienne, a whole fish cooked with olives, capers and tomato, and escalope de veau à l'Italienne, a tender veal escalope served with salsa verde. Design-wise, Le Rouge is reminiscent of turn-of-the-century bohemian France; the deep color palette, plush textiles and period detail pay tribute to places such as the Moulin Rouge. Private rooms are available, and a great option for a long, festive meal in a sumptuous setting.
Gastrologik
With one Michelin star, Gastrologik is known for its innovative take on Scandinavian cuisine. With background at L' Astrance, Pierre Gagnaire, Mathias Dahlgren and Bagatelle, Chefs Jacob Holmström and Anton Bjuhr have set out on their own to establish a new destination for seasonal fare. Ingredients are locally sourced, and since the restaurant works so closely with regional producers there is no set menu. Courses change from week to week, making each visit a unique experience.
Volt
Served as four or six courses, Volt's fresh menu earned the Stockholm restaurant a Michelin star. Volt focuses on organic ingredients from local producers, even allowing this principle to extend into its wine list of natural bottles. Enjoy dishes like mackerel and flowering quince, green asparagus with spring garlic and sour milk and Swedish mountain cattle with oat and ramson.
Esperanto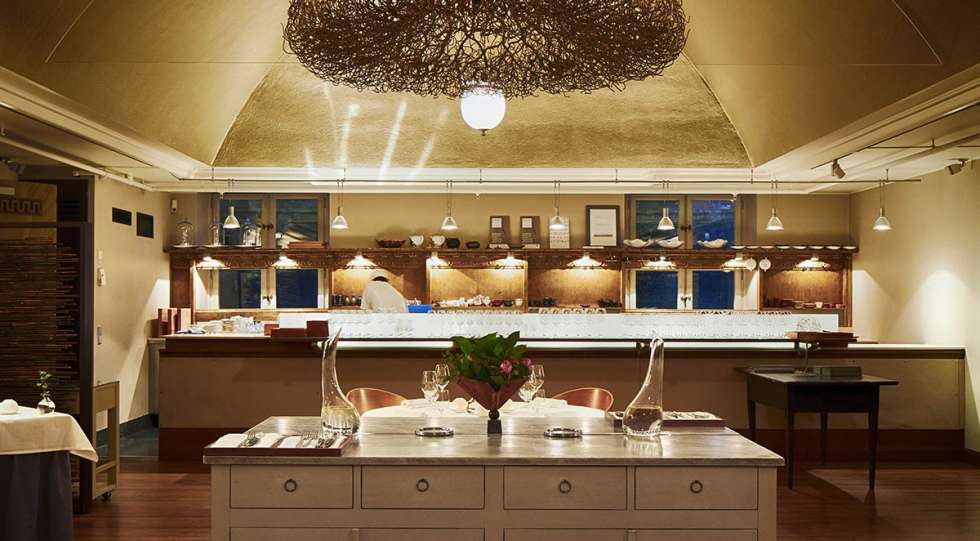 Named after the "language of the universe" in Paulo Coelho's book, The Alchemist, one-Michelin-starred Esperanto aims to deliver universally excellent cuisine; international, without boundaries, vivid and meticulously executed. Typical dishes include tartar of Swedish veal with smoked leek and endive emulsion and malted barley, and wild duck glazed with pear accompanied by sourdough granola, Jerusalem artichoke and vinegar jus. Dine on six or 10 seasonal courses in the sleek, modern main dining room, or visit in the warmer months when Esperanto transitions into Dim Sum(mer) Palace.
Prinsen
Over 100 years old, Prinsen is an established fine-dining location in Stockholm, and has been a firm favorite of the elite since its foundation. With its wood-paneled walls, antique-style floor tiling and brass accents, Prinsen resembles a brasserie in the great French tradition, and serves mouthwateringly tasty traditional European dishes such as Italian seafood ravioli with langoustine tails, lamb brisket stuffed with herbs accompanied by pecorino arancini and mousse au chocolat with citrus compote and caramelized nuts.